One of the most important benefits of a thriving small business ecosystem is the myriad of problems and niche issues that can be addressed with dedication and creativity that is almost impossible if the marketplace was only comprise of giant, corporate behemoths.
Our problem solvers series aims to highlight those incredible entrepreneurs and creatives who are solving important problems using their creativity and ingenuity.
Lina Franklin | Hairscaping
Problem: Commercialized haircut brands have been the go-to salon choice for a standard haircut and excellent customer service for practical folk. The problem is, only individuals with medium to fine hair with little to no wave in their mane feel confident to get services at these places, This leaves a large portion of communities to seek a specialty stylist for routine hair care maintenance.
Solution: My brand, HAIRSCAPING, is a craft haircut company that specializes in shape & texture. One method to develop trust is by paying attention, so we are a designation only hair cuttery. I've found that working by appointment, you're more likely to learn the client's style & build rapport. Although it seems like a preferred way of service, appointments can seem unnecessary for someone in need of a quick fix, and make the walk-in opportunity impossible. The appointment approach is the best practice for quality results and time management for both clients and stylists.
Learn more:
You contact me via: Web: Hairscaping.com
Email: information@hairscaping.com
IG: @hairscapingco LinkedIn: Lina Franklin
Mark Peterson | Ziscuit
Problem: The $700B grocery market is broken for the 49M food insecure and the retailers who serve them. The pandemic has made it worse forcing the shoppers to use expensive online delivery services that are literally taking food off their plates. These same delivery companies charge retailers a 5-8% platform fee which they pass on the the shoppers or absorb hurtful their margins.
Solution: Ziscuit is a grocery search engine that provides instant savings to shoppers and high-value traffic to grocery retailers, I.e., the Kayak of groceries
Learn more:
Retailers interested in partnering and brands looking to advertise can contact Ziscuit at partner@ziscuit.shop.
Chelsea Roberts | True Roots Hair Care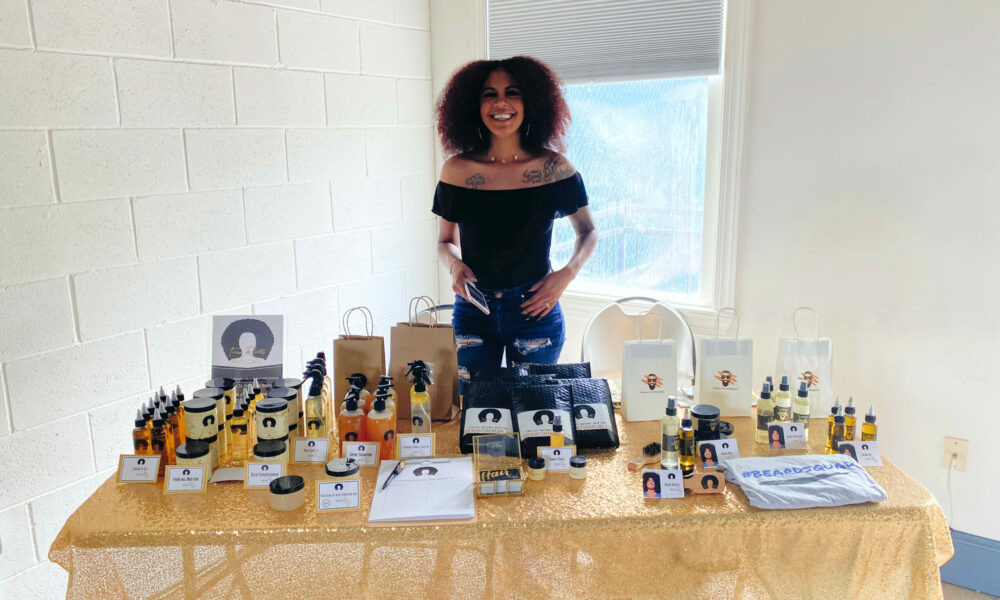 Problem: When it comes to your your natural hair, you deserve the best organic products! True Roots Hair Care is the answer to affordable, organic, hand-made hair & beard care products. Our goal is to provide our customers with all the tools they need in order to have healthy, natural hair.
Solution: True Roots Hair Care is the solution you have been searching for to achieve longer, thicker, more healthier-looking hair. We use all organic ingredients, no harsh chemicals or additives.
Learn more:
We can be reached by email truerootshcllc@gmail.com
Tamay Shannon| W2S Marketing
Problem: Social media is overwhelming, constantly changing, and an important aspect of your business marketing. So how should business owners leverage social media without losing to much of their time?
Solution: Social media is everywhere. And there are many ways to engage social media specialists, depending on what is important to you and where you want to focus on your business. The way I approach social media includes considering why you started your business, what you want from your business, and your goals for your life AND your business. I ask questions about what goals there are for the business, what metrics you want to reach, and how you envision your business supporting your community or an important initiative. This approach addresses the breakdown that can happen when you grow your business in a way that isn't aligned with your values and core commitments. This does require the time to invest in these answers; however, when you do have them, many other things become more apparent. This is not a good fit if your business is turning out widgets and you do not intend to cultivate and grow a community. This is perfect for business owners and entrepreneurs who want their business to be a part of their life, not their life a part of their business. It is possible to have social media contribute to the growth and sustainability of your business and not just take up more time.
Learn more:
Brandie Bishop | Your Tribe Family Service LLC
Problem: Among 11 developed countries, the United States has the highest maternal mortality rate, a relative undersupply of maternity care providers, and is the only country not to guarantee access to provider home visits or paid parental leave in the postpartum period. Black women and babies are impacted 3-6x more by this alarming death rate.
Solution: As a doula I use my passion for birthing and postpartum persons to give the best support possible during pregnancy, birth, and beyond. And as your doula I will assist in providing a safe, memorable, and well supported birthing experience. As a doula business mentor, I use all my past training and experiences in the start up of both non-profit and for profit businesses to coach Doulas to turn Passion in to Profit. Now as a Licensed Certified Trainer with the National Black Doulas Association I will be Training the Birth workers of tomorrow to be the change they want to see in the world. To top it off our Nannies and Housekeeping Staff allow us to add even more support to our families during these transitional times.
Learn more:
Yourtribefamilyserservices@outlook.com
Instagram: Yourtribe_Familyservices
Facebook: Your Tribe Family Services
Twitter: YourTribeFamil1 770-557-9676
NaDasia "Dej" Cochran-White | Club Snobb
Problem: My business solves the problem of insecurity and comfortability in fashion! My clothes are specifically picked and most hand made to fit the needs of EVERY customer. We want you to feel beautiful in YOUR skin because we all know now adays people are not. My clothing and accessories gives you the chance to rock who you are unapologetically and freely! As well as comfortably
Solution: My clothing and accessories gives you the chance to rock who you are unapologetically and freely! As well as comfortably. The pros of this mindset and business direction is a wider reach in target market. Once others see we have things to fit every ones needs they come back! Cons are getting people to latch on to the idea of "Hey, can I really do this? Can I reallly wear this? Can I really pull this off? YES you can! This is typically for women and men between 18+
Learn more:
If you would like to work with me you may send me an email, a direct message on Instagram or even a tweet!
Karl Hibbert | Fortunate LifeStyle
Problem: We seek to help promote individuality opposed to multiplicity. Exclusivity and Personal Projection are what we pride ourselves on. We create custom pieces of clothing from goggles to hoodies which express an individual's brand, personality or message!
Solution: In order to execute a plan that combines convenience and creativity I like to have a process of *Idea* *Design* *Samples* *Finalize* The most important part of the process which has been perfected over the years is the sample portion. Allowing a customer to see a digital of physical sample of their order prior to completing it ensures 100% satisfaction.
Learn more:
Dr. Annise Mabry | The Dr. Annise Mabry Foundation
Problem: When most teens drop out of high school, most parents think that their child can never become a high school graduate. That's not true–in Georgia, a parent legally has the right to issue their own homeschool high school diploma and this homeschool diploma has the same legal weight as a diploma from a public or private school in the eyes of employers, colleges, and even the military.
Solution: Tiers Free Academy Homeschool Cooperative is unlike any other school program because students in our program don't start over–they simply pick up where they left off in public or private school. But since we are a homeschool program, we can select a curriculum that works best for the student's learning style and the student picks career pathway electives that the student wants to learn. Our homeschool cooperative puts the learner in charge of the academic experience. Students in our program work on one class at a time and complete one class every 30 days. This program is a great fit for students who are burned out from pandemic schooling and want to drop out or who have already dropped out.
Learn more:
Brooke Sanzari | Browtopia
Problem: Self care for many people has created some disillusionment. From pricey products that are doing more harm than good, constant, expensive, appointments to factor into busy schedules, or even recommendations that are even setting us up to fail with routines that are far too ridiculous to keep up with. These experiences can disempower while creating a endless circle of dependency for those goals to be attained.
Solution: Browtopia is ethereal esthetics for superNATURAL self care. I offer products & services that do SO much more than go skin deep. I create little celebrations instead of inauthentic routines to find a bespoke solution for the individual. From facial and brow offerings, to bath and body, potions of beauty, healing, and more are made just for you. The self care item allows you to actively participate in your intention- whether in healing, clearing, or just moving towards a goal. You can book all the appointments and start to see progress but what happens when there's extenuating circumstances that make that not feasible? Many times our progress backslides, leaving us feel dependent or inadequate. You can also get all the readings, and astrology energy reports, and still feel lost. That's because nothing changes until you decide to shift you. Self care is a practical, hands on way to up your physical, emotional, and energetic immunity and wellness! All the while, you will notice the by-product. The by-product of beauty. Bolder brows and radiant skin. I am working exclusively virtual now after 20 years of in person sessions to support my clientele without taking over and doing things for them. For now, my wish is to have people achieve long lasting results that are attained by their two hands. This way your inner self starts reflecting the outer beauty goals and wellness you keep spending $$$ and your time on. Your energy is very much connected to your health and esthetic. It always has been. My approach is teaching the gift of autonomous self care on a deeper, authentic level… If you do not wish to learn, or would prefer keeping up with fads, trends or the latest must-have product regardless of whether or not it's beneficial for you… I'm not your girl.
Learn more:
My website, browtopia.com
Instagram @ browpixie & @browtopia.
Clubhouse & Twitter @enchantpix.
Tanisha Charron | Primal Instincts Cosmetics, Primal skincare and Tanisha Charron
Problem: Often times clients experience skin issues at some point. It could be dark circles, hyper pigmentation, hormonal acne, etc.
Solution: At Primal Instincts Cosmetics as a makeup artist I offer makeup services. However I also educate my clients on proper skincare products for their skin type as well as provide educational tools on natural foods and products that can combat the issues they are experiencing.
Learn more:
Dr. Nazeera Dawood | Vendorship Inc
Problem: There is.a need for a liaison between innovative solutions providers (in IT, construction, commodities and government offices for better functioning, flourishing communities. There are barriers that exist for small and medium sized companies to identify and successfully bid on government contracts.
Solution: At Vendorship, we collaborate with our clients on identifying bids and writing proposals; all the rest, the red tape, is taken care of by us. We make government contracting easy.. We are a full service government contracting partner for local and global SMEs. We operate as an extension of our clients' team, with a variety of experts that deliver business development leads (i.e. RFPs based on our clients' core business), and public sector specific proposal writing. We take care of any and all documentation, registrations and certifications. A crucial aspect that sets us apart from other specialists in the field is our bid intel work: we find the bid information that is needed to make networking, positioning and solid project pricing decisions for better chances of winning the bid … increasing our clients' ROI.
Learn more:
Venessa Abram | Self-Discovery PPP Inc
Problem: Many are unaware of the magnitude of the impact of suicide and mental illness; even more are unaware of what to do when themselves, their colleagues or loved ones are faced with suicidal thoughts or factors which contribute to them.
Solution: Through numerous community partnerships, Community Resiliency Model training, speaking events and sensitization campaigns, SDP3 both educates and equips attendees with helpful information and tools to identify these factors and symptoms and seek the proper help necessary to prevent suicide or bodily harm. Through our weekly radio show, ShopTalk events and social media appearances, we are able to engage members of the community, allowing them to speak freely and inquire more about the topics which are of concern to them in order to cultivate their understanding and removal of certain stigmas.
Learn more:
Terry Womack | The Iron sanctuary
Problem: A lot of people want to be fulfilled physically. Yet they don't know how to do it. So why not have a trainer help you?
Solution: I help people achieve their greatness through fitness. I help them through hitt and endurance style of training.
Learn more:
470-832-0015 @t.c._womack IG
Email: tcwomack@theironsanctuary.com
Axel Arzola | Red Axe Media
Problem: Awareness and reach.
Solution: Content creation focused on the customer and their stories
Learn more:
axel@redaxemedia.com
213-261-1300
Jennifer Champagne | Success To Stardom PR
Problem: Yes, my business actually solves many issues for my clients. As a publicist my role is to get the clients brand to media which can be an issue for some. We have to format a corrected pitch with HD photos to send out to numerous media outlets. Another problem solving service I offer is Crisis Management. The larger your brand the more issues you may face with defamation, lawsuits etc. This is where my company comes into play.
Solution: We come up with strategy that best apply to the actually problem. With those strategies we implement them into creating a solution to the problem. The Pros and Cons vary depending on situation. Some strategies may work for certain clients and others may not. Some may take longer to implement and others may work faster.
Learn more:
Aaron Thomas | Prenups.com
Problem: Getting married is the biggest financial decision of a person's life, and it's more complicated today than ever. A couple in the 60's typically got married at age 20, and typically had no credit cards, one bank account, no home, no mortgage, little to no student loans, no retirement… a blank slate, financially. The typically couple getting married today is closer to 30, and often has a mortgage, 401K, multiple credit cards, multiple bank accounts, and most importantly, a decade of financial habits (good and bad) under their belt. Marrying in the 60's was like starting a small business together from scratch. Marrying today is like merging two corporations, and you'd never do that without some written agreements on how it's going to work.
Solution: A prenup is just a set of rules that defines how your finances will be handled both during and, if necessary, after the marriage. Even if you don't sign a prenup, you've still got a prenup – most people just accept the default rules of the state they live in, rules that haven't changed much since the 1800s and create all kinds of unintended consequences for modern couples. At Prenups.com we help couples select a set of rules that make sense for their financial situation. As a practitioner of family law since 2007, I've seen what kinds of financial arguments erode relationships. We help craft agreements to eliminate the common financial disputes that couples have, helping them improve their financial relationship not just in divorce but during the marriage itself. In other words, it's the prenup that actually helps you stay married.
Learn more:
Interested couples can find out more information at prenups.com.
Tameka Williamson | Celestial Enterprises DBA College for Free
Problem: Hope is not a strategy! The college-bound often pursues the school first and then looks for money, HOPING they get enough to pay for it. Instead of curating scholarships over the years and pursuing financially fit schools, they make emotional decisions and pursue schools, their dream schools, and amass crippling debt, adding to the $1.8 Trillion Studen Loan Debt Crisis. College admissions is a game, and you have to know how to play the game to win.
Solution: As the author of several books and courses such as "Parents! Send Your Child To College For Free," over the last decade, Ms. Williamson not only has given parents peace of mind but she's armed them with the knowledge that has helped thousands of students create a debt-free college experience. The College Prep Boss is also an award-winning mechanical engineer, her approach to college admissions and funding is technical, logical, and strategic. Her unique take is that colleges are brands that receive funding based on their students' retention rates; therefore, these schools actually take a R.I.S.K. on every student they accept, anticipating they will stay, graduate, and become good leaders. Think of it like this, the banks will only issue you a credit card if they trust that you are a good RISK to pay it back. If you don't, they lose money. Tameka's message is a necessary message for the masses, as student loan debt is crippling lives at a $1.8 Trillion rate. Her message is practical, real, and informative as she addresses common myths, mistakes, and how college-bound students can determine if they are a good or bad R.I.S.K. As these teachings and strategies have helped families garner over $75 Million in funding, they can help other families learn how to play the college admissions game and win. Now, this only works for families who are open to the process versus being rigid and set on a school that is not a good financial fit.
Learn more:
To book me for training, professional development seminars for schools or to join one of our results-driven coaching cohorts, a free Discovery Call can be booked at collegeprepboss.com.
Ralph Russell | DJ 23 (Professional DJ Services)
Problem: Venues and skating rinks have trouble finding DJs to provide music for their events. Also, most DJs don't provide their own equipment and/or lightining.
Solution: My business provides music for different venues and skating rinks. I also provide sound and lighting that may be needed for events. The pros of my solution is that I am entertaining the audience that comes to the event. Music is needed for events and venues because it keeps the crowd engaged.
Learn more:
Instagram: @dj23_live
Twitter: @dj23_live
Cell: 678-308-1921
dj23atl@gmail.com
Savannah Rose Johnson, BA, CLC, RTTP | The Blonde Who Loves Brains
Problem: Covid was a viral pandemic & the whole world has been experiencing a global mental health crisis on top of it. Everyone is afraid of getting sick & is stressed about so much more. The whole globe has been adjusting & experiencing an imbalance in mental wellness.
Solution: I've been able to live my dream having a caseload with individual clients at Attento Counseling and I even created my own program: Mental Wellness & Emotional Learning (MWEL), a sliding-scale mental wellness program offering reduced rate counseling in three different languages. Bringing counseling & coaching services to people who might've never utilized them before has been a mission driven by offering accessibility, affordability and counseling with diversity & inclusion. I've also loved serving nonprofit groups in my community, such as joining the Board of Directors for Kennrod Incorporated and doing volunteer virtual events with Synergies Work, Giving Kitchen & more. Writing books has also been a way I've empowered others through knowledge.
Learn more:
Ashley Black | The Black Firm LLC
Problem: Amid Covid-19 and the increased risk of death, most Americans do not have an estate plan.
Solution: Our business has helped solve this problem by providing free estate planning seminars and discounted estate planning to anyone over the age of 18 to ensure they have the proper documentation in place in case of death.
Learn more:
ablack@theblackfirm.com
678-537-6833
@theblackfirm on Instagram
Jessica Lewis | Mobu Enterprises
Problem: 1. People are seeking to have safer and better quality housing. 2. They also are not wanting to spend alot of money to do it while hoping their forever structure withstands the test of time. 3. They want to live in neighborhoods they can relate to.
Solution: We provide custom container projects that are wind, water and fireproof in our most vulnerable communities with the highest quality and best cost savings possible. We are disaster friendly, cost less than stick built, and can be built anywhere leaving the flexibility of geography to the end user.
Learn more:
Nalat Phanit Black | United Nations Association of USA, Atlanta Chapter
Problem: Some people want to live a sustainable lifestyle but don't know where to start. They want to help with climate action but don't know how.
Solution: We partnered with a South African based tech start-up, Aurora Sustainability, to create the Carbon Footprint Quiz for Georgians. Individuals can take a 10-minute quiz and is given a sustainability score at the end as well as tailored recommendations to lower their impact on climate change. If the individuals create a free account, they will receive a dashboard which can track their sustainability scores as they take the quiz once every two months. The data gathered (identities remain anonymous) will be used to inform businesses and policy makers about Georgians' efforts to become more sustainable and also identify areas of improvement. The advantage of the Carbon Footprint Quiz for Georgians is that it allows individuals to realize and visualize how their daily decisions impact climate change. By being aware of their decisions' impact on the climate, they will be able to identify areas that they can change easily.
Learn more:
HOUSE OF RAMIREZ
Problem: The problem I see most is the disconnect between the government the community and small biz owners. I focus on bridging that gap.
Solution: How I solve the problem, I pin point what tools are less accessible to the community and small biz owners and then I go to the government and see what tools they have for those specific biz or communities. After the connection is made I will hold their hand in the first hand off and then after that I make a warm handoff and I allow myself to be accessible after I have stepped away.
Learn more:
Anyone is able to Google me at HOUSE OF RAMIREZ
My email is leslie@houseoframirez.com Subject line : COLLAB